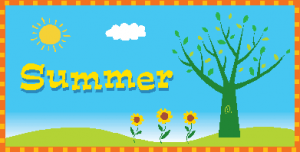 Summer Time Program
While still achieving our academic goals, we add loads of summer time fun!
Week 1:  (June 10th)    Town Mouse and Country Mouse: Ending this unit with a Tea Party and dressing as a Town or Country Mouse!
Week 2: (June 17th)     Learning about Native American Indians. Children will enjoy making Tee-Pee's, Rain Murals and Head Dresses and having a scavenger hunt!
Week 3: (June 24th)  Camp Out: End the week with a Weenie Roast and Smores!!!
Week 4: (July 1st)   Independence Day! Celebrating America and enjoy a picnic in the park. Parents invited!
Week 5: ( July 8th)  Hola, Amigos!!, Music, Food, Fun and Dance is what this week is all about! We will make our own pinata, fill it, break it open at the end of the week for our Fiesta Finale!!
Week 6: (July 15th)   Transportation and Safety: This week is an important week for children of all ages! We will learn about fire, car, school, home, bike and neighborhood safety. The fire department will make a visit and the children will get up close to all their equipment. This week will be full of hands on activities for them to have fun and be safe while they do it!
Week 7: (July 22nd)   A Warm Aloha! We will celebrate the traditions of the Polynesian culture. From creating flower leis to graceful storytelling with our hands. Maybe we will make a volcano!, and watch it explode! Eat some traditional Hawaiian fruit like pineapple and coconut!! Do a little Hawaiian Dance!!
Week 8: (July 29th)      Fun in the Sun! Fun summer relay games and fun with water play. Make homemade ice cream and t-shirt decorating!
Week 9: (August 5th)    The Deep Blue Sea: Let's explore the sea together! We'll discover together what lives in our ocean and  have loads of fun reproducing what we learn by making discovery bottles,  3-D oceans, and beatiful collages.
Week 10: (August 12th)    Let's Cook!!! Let's learn basic cooking skills, including safety. Each child will make their own Blueberry Bread to take home! (With a little help from their teacher)